Program 3 keys + keys

Note that the keys will be sent uncut!
Click here for the keyform (PDF)
or as Word document (DOC)


Register red (master) key.
For the montioned price we can register 1 master (chip) key. Each brand has its own way of security.
Check HERE for brand specific information
Your unit will be opened, reprogrammed and sealed waterproof professionally.
After this modification your bike will run as it did in it's original state, with a working immobilizer system.
Within 3 business days your unit will be ready to be picked up/sent out.
1 Year Warranty

For this service you will need to send the following items to Carmo Electronics
- Copy of motorcycle purchase certificate / registration certificate part 1B (old part II).
- Copy of ID / driver's license
(If you still have a working key, but you want more, we can offer you another service)

Team-Carmo
Digital ignition systems.
Our digital ignition systems come with 3 years warranty. Production errors, quality issues and internal problems are covered by this warranty.
The Carmo digital ignition systems are protected against high voltage peaks, defective HT coils and reverse battery connection.
This protection means that the Carmo digital ignition will not be damaged immediately in case of faulty electronics in your motorcycle.
Long term use of a motorcycle with faulty electronics may still result in damage to the Carmo digital ignition system.
This means that without solving the electrical issue the Carmo digital ignition could break down after a while.

If research shows that your Carmo digital ignition was damaged by faulty electrical parts, the warranty rights will not be valid.
If this situation occurs we will attempt to repair your ignition system in order to keep the costs as low as possible.
If the system is beyond repair a new product will be offered at a reduced price.
In all cases we will try our best to offer an acceptable solution.

Testing your original ignition module is free of charge when purchasing one of our replacement systems.
During the test we are often able to find out what caused your original module to break down.
This way you will know for sure if your original module really needs replacement, and you'll be able to solve other electrical issues that may not be known yet.

Team Carmo.

There are currently no questions about this product.
Customers who bought this product also purchased...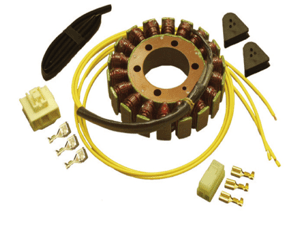 €117,98
Inc VAT
€97,50
Ex VAT